Brought to you by Steph and Becky!
Today,meet Trish from JellyBones and her adorable fur creature, Tootsie Roll!
Hey there fellow geeks in glasses!  My name is Trish, and I am the driving force behind JellyBones, a blog about my many loves, food, drink, craft, and my itty bitty fam.  Although I don't have any human children, I've got my spoiled little bit, Tootsie Roll.  Oh my gosh I just love this little lady.
My fiance and I first met Tootsie Roll on April 10th, 2011.  She was only 10 weeks old, and my heart just melted.  She ran up to me and wanted to just be held from the moment we met.  There was no turning back…… I was in luuuuuuuuuuuv.  She's a salt and pepper mini-schnauzer, although I've never seen one that looks quite like her before.  Maybe it's the giant floppy ears, or the haircut.  Or maybe we were duped and she's a mutt.  All I know is, she's my little companion.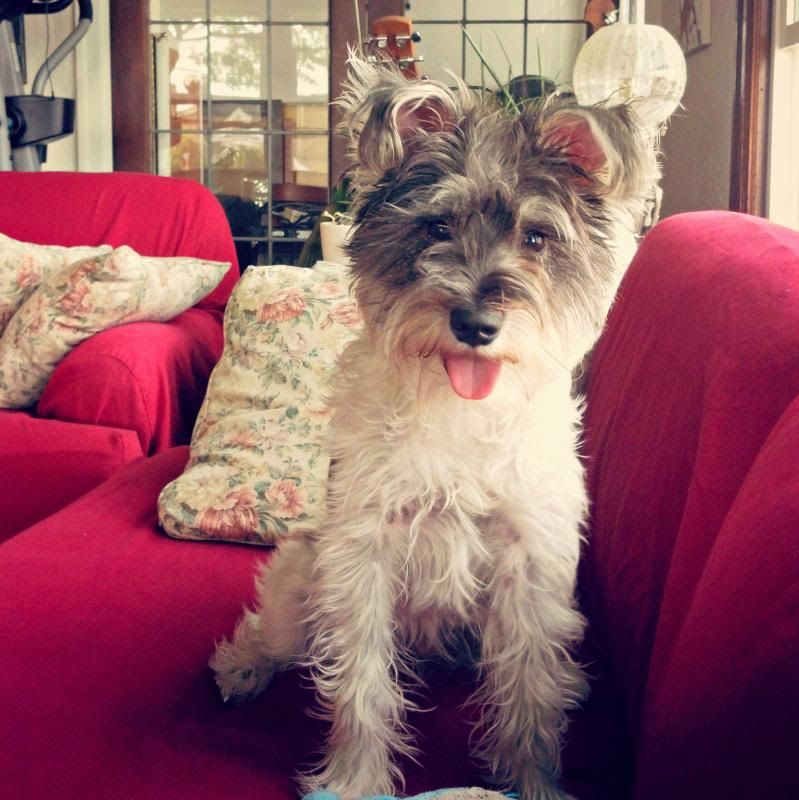 Tootsie became part of our family in a heart beat.  We took her EVERYWHERE!  I even took her to work.   I guess you could say we coddled her, still do.  ha!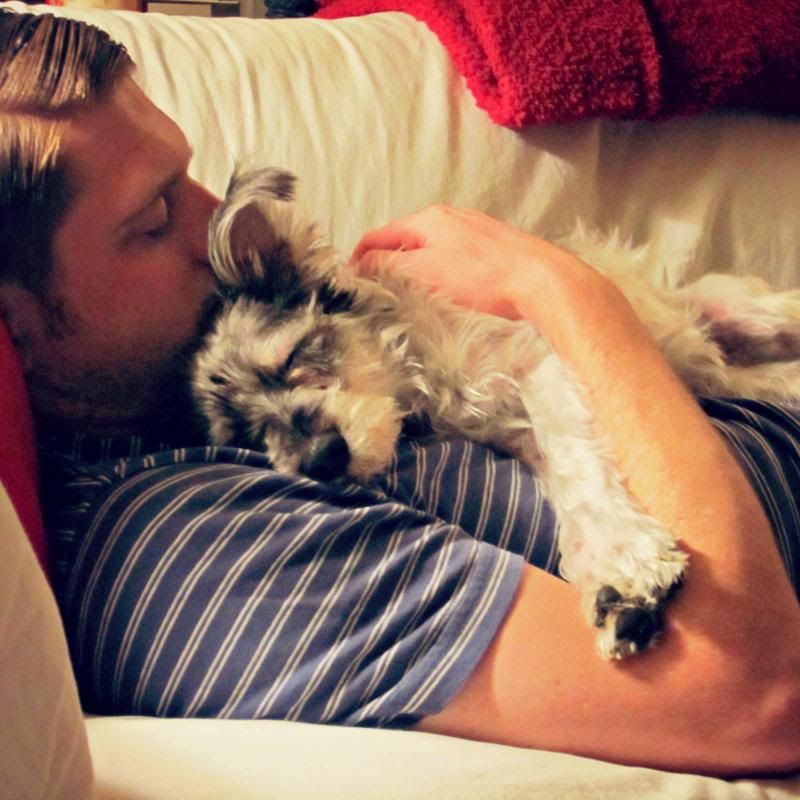 Tootsie may be the sweetest little dog in the entire world.  At least I like to think so!  I'm probably a bit biased though. :) 
She loves to cuddle.  SOOOO much cuddling.  We've literally created a cuddle monster!  She'll paw at you when she wants some loves, so, like, constantly.
Tootsie's favorite things to do are cuddle, eat clumps of grass, cuddle, collect toys (but her most prized possession is her duckie), eat vegetables, cuddle, grunt, give high fives, oh yeah and did I mention cuddle!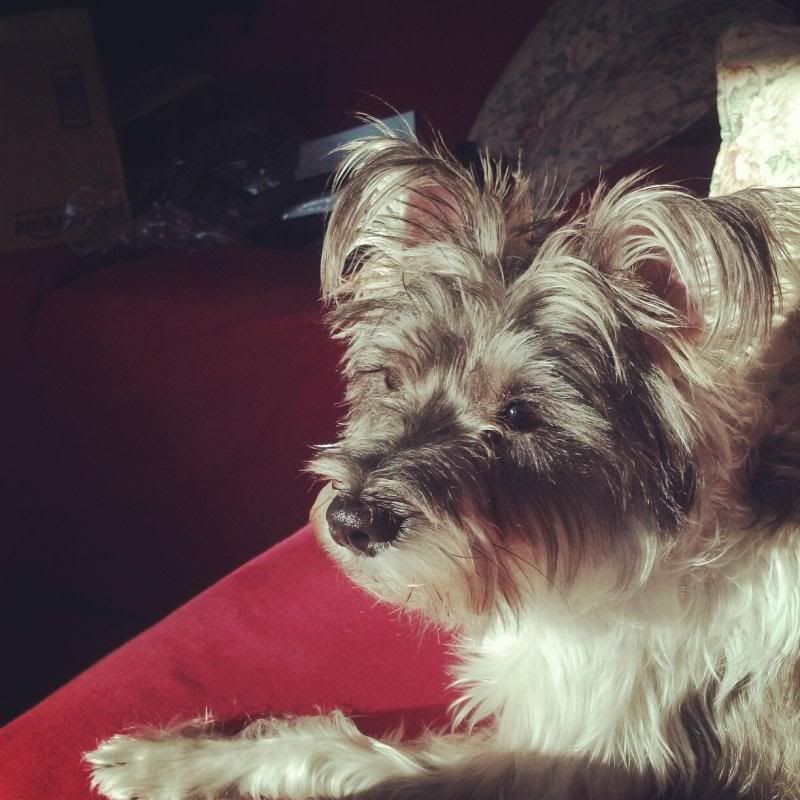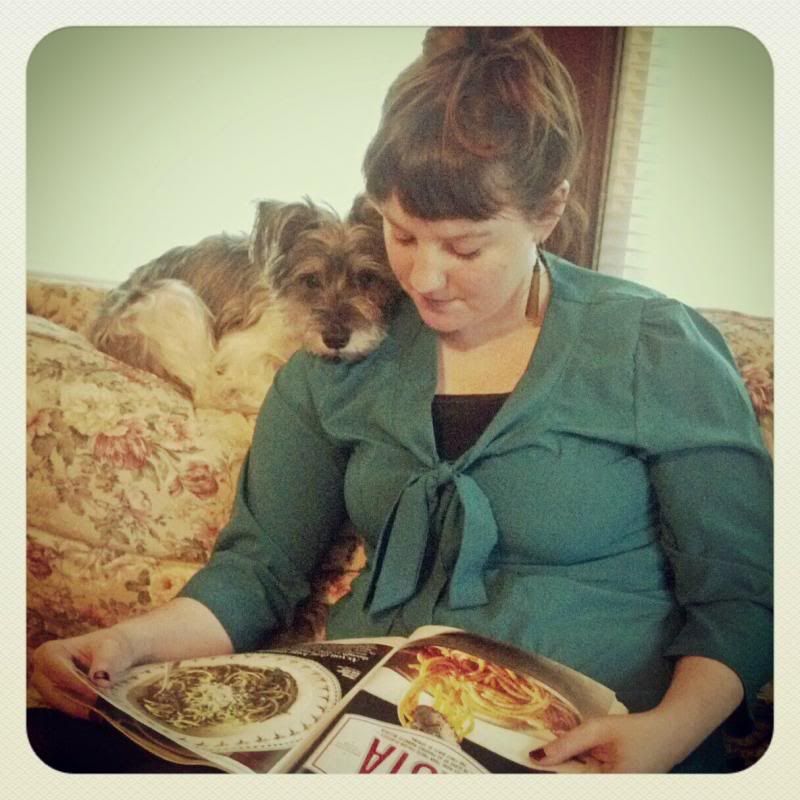 This is Tootsie in her favorite spot.  Top of the couch with someone there with her.  I had no idea this little bit would steal my heart the way she has!!!  
Thank you so much Stephanie for letting me a part of Furry Fridays!  I love an excuse to talk about my pup.  Wanna read more about
JellyBones
life???  Pop on over and have a look around.  I love meeting new blogging friends, and especially fellow animal lovers.  I'm looking forward to reading more Furry Friday posts.
Trish
Do
you love your pet and want to be featured on Furry Fridays? Send your
story of pet love, up to 5 pictures, tip about choosing a pet, how to
rescue an animal or pet care tip and a link to your
website/blog/etsy/twitter/facebook/etc.
Email your stuff to nericcio(at)centurylink(dot)net or bisforbeckystets(at)gmail(dot)com subject line: Furry Fridays.